Jhumpa Lahiri with Amara Lakhous: On Writing in Italian, Migration/Mobility, and Belonging
A dialogue between award-winning authors Jhumpa Lahiri and Amara Lakhous moderated by Elizabeth Leake and Konstantina Zanou.
December 22, 2021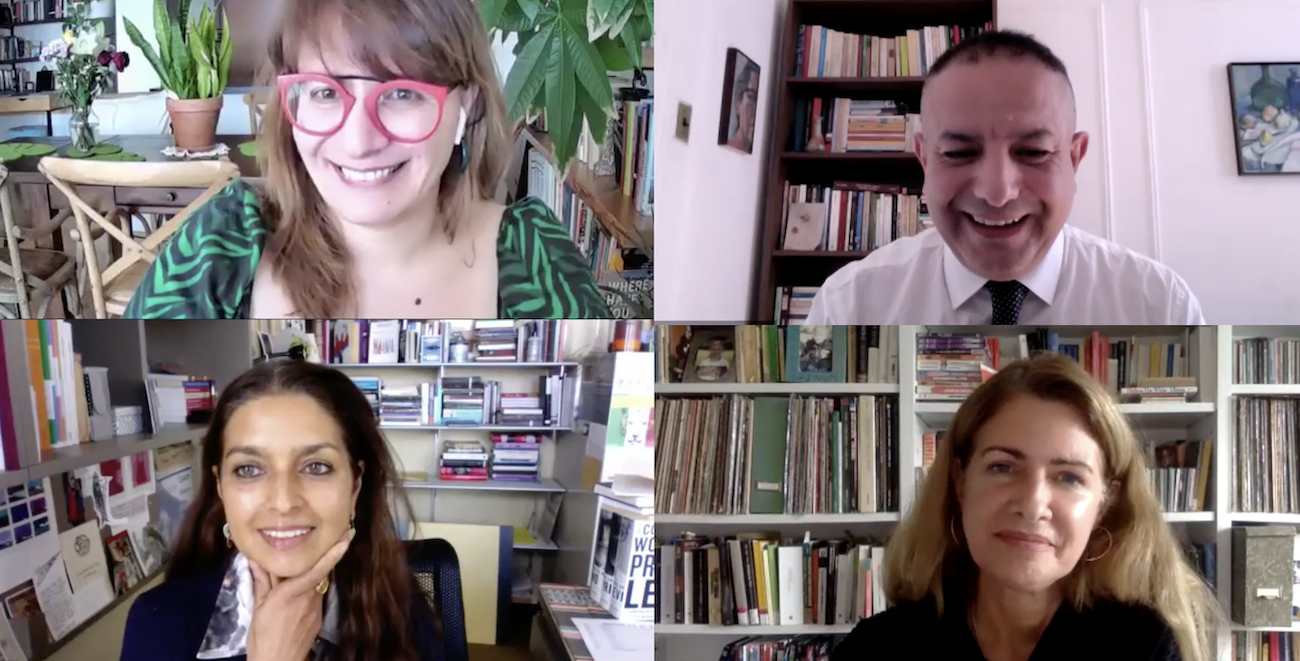 "The land belongs to [those] who take care of it. This is the same for language….and Jhumpa and I are like gardeners in this fantastic Italian garden," says Amara Lakhous in a conversation with Jhumpa Lahiri. Lahiri agreed with this, adding that language is an "open garden." In an event* that was part of the Italian and Mediterranean Colloquium series, both Lakhous and Lahiri discussed their personal journeys with writing in Italian in relation to migration, mobility, identity, and belonging. The conversation was moderated by Elizabeth Leake and Konstantina Zanou.
Lahiri who is the author of numerous acclaimed works, including The Namesake, In altre parole, and Dove mi trovo, explained that for her learning Italian was a choice, while learning English was a necessity. Accompanying this freedom of choice, the question of why she was on this journey with the Italian language always remained. In this sense, she argued, the freedom of choice is always undermined as long as that question prevails. When asked why, Lahiri replied: "There is simply no answer to explain what happens when somebody feels a calling when someone feels summoned by a force, by language in this case, that is outside of one but feels at the same time a fundamental part of me, of my being, of my soul." Lahiri even admits that her decision to learn Italian cannot be reduced or rationalized because it is in itself a completely unreasonable journey. Underlying this phenomenon is a problem--what she explains as "Not having a language. Not feeling that I had a language of my own. Not having a language that fully accepted me." In an effort to resolve this absence, Lahiri added a third component: Italian.
Amara Lakhous' story of learning Italian differs from that of Lahiri. For the author of Divorce Islamic Style andClash of Civilizations Over an Elevator in Piazza Vittorio, it was a vital necessity to learn the language after he escaped to Italy from Algeria in 1995, living first as a refugee and then as an immigrant: "During my immigration and refugee phase I was protected by language. Italian protected me." While Italian assisted him when he needed it the most, he also admits that the language has some "complex of inferiority," saying "Italian is a weak language, Italians live in fragility." He applies this sentiment to the Covid-19 pandemic, arguing that rather than calling lockdown Confinamento, Italians opted for Lockdown, arguing that despite being in a "depressing situation," they still used a word that includes "down." The ability for Lakhous to make such a conclusion, he argues, comes from his place in the middle which allows him to observe. 
When the conversation shifted to identity, Lakhous shared his background and upbringing in relation to language. At home, Lakhous spoke Kabyle, learning Arabic and French in school. In this sense, Lakhous is a self-proclaimed "linguistic polygamist," moving to and from languages with ease and simplicity. Contributing to this notion of multiples, Lahiri elaborated that anyone who is born into a non-monolingual family, experiences this straddling of multitudes: "From the very beginning when I started writing in Italian, I was hearing Italian in my head and I wrote down what I was hearing." This ability to hear and think in Italian results from her own impulse to create an Italian structure around her, which keeps English on the outside. What composed this structure? First, she stopped reading in English, a move she cites as monumental as her "oxygen was reading English." Without this separation, she argues, it would be impossible for her to achieve intimacy with the Italian language.
Lakhous agreed with this sentiment and added that writing is an entirely different phenomenon from speaking a language, invoking his experiences in producing a novel in both Italian and Arabic. While the content is the same, the novels are composed in different languages which in itself forms a kind of censorship: certain things differ and cannot be directly translated which results in a kind of restriction. However, Lakhous explains that this also allows certain things to evolve and develop in alternate languages. Later, Lakhous elaborated that languages are bridges. In this sense, he argues that one is able to be original only when one experiments with the unknown.
The dialogue between Lahiri and Lakhous appeals to all of us, who are balancing multiple identities, nationalities, and languages. The conversation highlighted how language can provide a sense of identity and belonging, acting as an open garden to those who are willing to take care of it. In the words of Jhumpa Lahiri, "If you have the language, you are an Italian reader." For those who want to learn, the garden is open, ready for cultivation and the addition of new seeds.
Emma McDonnell is an MA Student in the European History, Politics, and Society program at the European Institute, Columbia University.
*This online event took place on November 17, 2021 and was part of the Italian & Mediterranean Colloquium series, co-sponsored by the Department of Italian, the European Institute, and the Italian Academy for Advanced Studies. The event was moderated by Elizabeth Leake, Professor of Italian, and Konstantina Zanou, Assistant Professor of Italian. Jhumpa Lahiri is the author of numerous works, including The Namesake, In altre parole, and Dove mi trovo. She is also the winner of the 2000 Pulitzer Prize for Fiction and was awarded the 2014 National Humanities Medal. Amara Lakhous is the author of several works, including Divorce Islamic Style and Clash of Civilizations Over an Elevator in Piazza Vittorio. He was awarded the 2006 Premio Flaiano per la narrativa and Algeria's prestigious Prix des libraires Algériens in 2008.