CWAR Conferences
The European Institute's Cold War Archives Research (CWAR) Fellowship offers to selected Columbia students the opportunity to conduct original archival research on the history of culture and the Cold War.
After the conclusion of each research session, the students work on their research papers to be presented at a conference at Columbia University.
In December 2017, the Cold War History Research Center (Budapest) published Students on the Cold War: New Finding and Interpretations, edited by Csaba Békés and Melinda Kalmár. The publication includes work by five CWAR Fellows: Fatima Dar, Adriana Popa, Monique Kil, Thalia Ertman, and Tinatin Japaridze.
Previous CWAR Conferences
The conference is organized in collaboration with the Institute of International Studies, Corvinus University of Budapest; the Institute for Political Science, Centre for Social Sciences, Hungarian Academy of Sciences; and the European Institute, Columbia University, New York.
Video recordings of the conference below, which are all available on the Cold War History Research Center's Facebook page.
Co-organized by the History Department, Central European University, Budapest and the European Institute, Columbia University, New York
Videos from the event:
Remarks from the conference: Thomas Kent, President and CEO, RFL/RL on "RFL/RL Today and Yesterday" (full text)
AGENDA
9:30-10am: Welcome Remarks
Victoria Phillips, Radio Free Europe/Radio Liberty Research Project, Adjunct Lecturer, European Institute, Department of History, Associated Faculty, Harriman Institute
10-10:45am: Conference Keynote
"Managing Influence Projects: Lessons from Radio Free Europe and Radio Liberty" 
A Ross Johnson, Visiting Fellow, Hoover Institution; Adviser to the Radio Free Europe/Radio Liberty Project, Hoover Archives; former Director, Radio Free Europe
11am-12noon: THEORY IN ACTION: Psychological Warfare, Intellectual Backlash, and Funding for Propaganda in the Cold War
Commentator: Greg Tomlin, Branch Chief at Joint Staff, The Pentagon, author, Murrow's Cold War: Public Diplomacy for the Kennedy Administration
Fatima Dar: Psychological Warfare and Soft Power: A State of Total War
Adriana Popa: "Radio Free Europe: Intellectual Backlash"
Monique Kil: "A Penny for Every Word: Radio Free Europe's Call for 'Truth Dollars'"
12pm-1pm: SOFT POWER?: Race, Religion, Gender 
Commentator: Victoria de Grazia, Moore Collegiate Professor of History, author, Irresistible Empire: America's Advance Through Twentieth-Century Europe
Lotte Houwink ten Cate: Free Man in a Free Society: Broadcasting the March on Washington in the Soviet Union
David Noell: Broadcasting Against Persecution: How American Cold War Broadcasters Used the Communist Quarrel with Religion to Define Religious Freedom
Thalia Wells Ertman:  "Every Courageous and Incisive Measure": The Participation of Jewish and African-American Women's Groups in the Crusade for Freedom's Fight Against Communism
1pm-2pm: Luncheon Keynote
"One Hundred Years of Cold War: Russian and American Interference in Domestic Politics Abroad"
Kenneth Osgood, Professor of History, Colorado School of Mines, author, Total Cold War: Eisenhower's Secret Propaganda Battle at Home and Abroad
2pm-3pm: "Radio Free Europe in the Twenty-First Century"
Thomas Kent, President and Chief Executive Officer of Radio Free Europe/Radio Liberty
3:15-4:15pm: RFE FALLOUT: Orchestras, Television, and Balloons
Commentator: Greg Tomlin, Branch Chief at Joint Staff, The Pentagon, author, Murrow's Cold War: Public Diplomacy for the Kennedy Administration
Giancarlo Milea: The Philharmonia Hungarica: Pride or Propaganda?  1957-1959
Tinatin Japaridze
: MIND THE GAP: Rebuilding the U.S.-Russian Space Bridge in the Post-Cold War Era
Sarah Roth: Radiowaves and Weather Balloons: How Radio Free Europe's Domination of the Airwaves and the 1956 Hungarian Revolution
4:15-5:00pm: Closing Remarks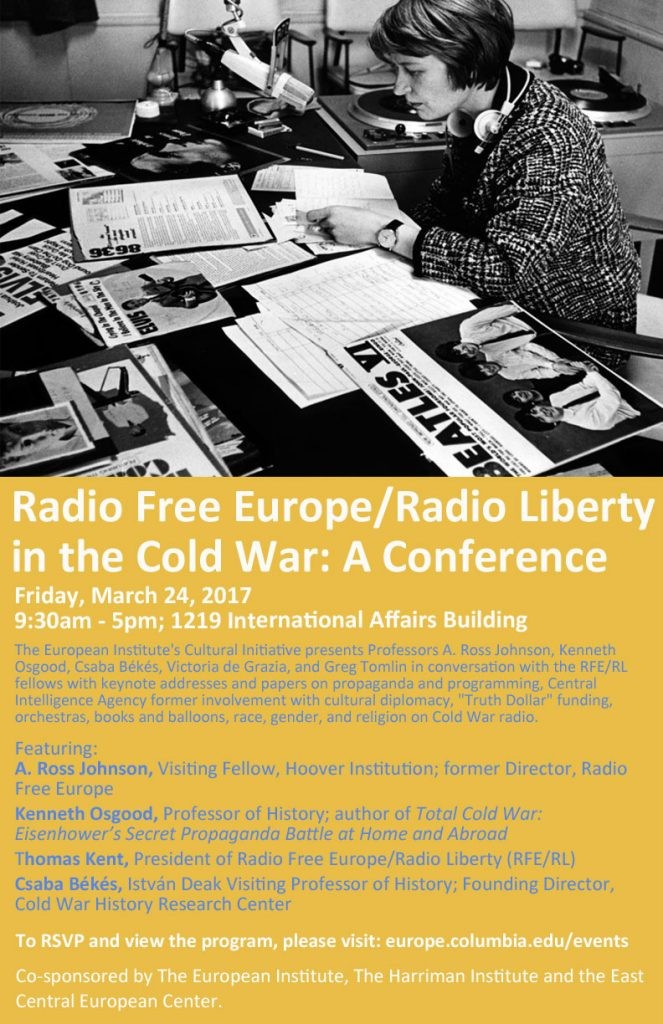 Talk and Discussion by A. Ross Johnson, Visiting Fellow, Hoover Institution; Senior Scholar, Woodrow Wilson International Center for Scholars; former Director, Radio Free Europe
Moderated by Victoria Phillips, Adjunct Lecturer, European Institute